India's e-commerce market has plenty of room to grow that is estimated to reach US$33 billion with 19.1% growth from 2016-2017. The IBEF estimates that the market will reach US$200 billion by 2026.
But despite some effort made by Chinese e-commerce companies in India, the market is looking like an American affair – Walmart and Amazon are going head-to-head and experts speculate that the two companies will bankroll the Indian market. Amazon India has made efforts to take over Flipkart, India's domestic e-commerce giant. In 2017, Amazon invested US$2.7 billion into its Amazon India Seller Services branch injecting support for local SMEs. In the same year, it also doubled its authorized capital to US$4.74 billion.
Despite these efforts, Amazon will continue to face-off with Flipkart through another player – US rival Walmart. Walmart is currently arranging a deal with Flipkart to raise its valuation to as much as US$20 billion. Bloomberg reports that Walmart is setting up to acquire 60-80% of Flipkart for US$12 billion. Last year, Flipkart achieved a US$12 billion valuation via a US$1.4 billion investment from Microsoft, Tencent, and eBay. Despite the uncertainty of which shareholders will offload their portion of the company, Tiger Global will sell its 20% share as will SoftBank.
Analysts are suggesting that Walmart's fight for India comes after it failed to pick the right pony in China. It first backed an unprofitable, second-tier online marketplace called Yihaodian in 2011, which it later exchanged for a stake in JD.com. Walmart was then forced to play catch-up in China, and will most likely always play second to Alibaba.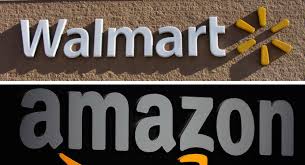 Walmart plays catch-up in India with the help of SoftBank group
Robert Gregory, global research director and consultant at Planet Retail told Bloomberg, "They missed the boat in China, and they don't want to make the same mistake in India. It's quite clear that the future of markets like China and India are offline. If Walmart wants to play in India, it has to invest."
Walmart's Flipkart investment would be its biggest deal in two decades, making it tough competition to Amazon India. The latter holds 27% of India's e-commerce market, according to Euromonitor. Amazon's share of the India e-commerce market trails Flipkart by 34%.
Global telecom giant SoftBank group headed by Masayoshi Son is consolidating e-commerce and telecom businesses against Google and Amazon leveraging its US$100 billion Vision Fund. SoftBank headed talks for the Walmart Flipkart deal and plans to invest in 30 tech firms across the globe. In the e-commerce and fintech space in India, the group has invested close to $8 billion — $1.8 billion in One97 Communications run Paytm, $2.5 billion in Flipkart and around $2 billion in cab aggregator Ola.