"This is the first of many" trade actions, Trump said as he signed the memo.President Donald Trump signed an executive memorandum on Thursday that would impose retaliatory tariffs on up to $60 billion in Chinese imports.
Mr Trump said the tariffs would "make us a much stronger, richer nation".
The new measures follow a so-called 301 investigation led by U.S. Trade Representative Robert Lighthizer into China's potentially unfair trade practices with the U.S which
are designed to penalize China for trade practices that the Trump administration says involve stealing American companies' intellectual property. They will primarily target certain products in the technology sector where China holds an advantage over the U.S.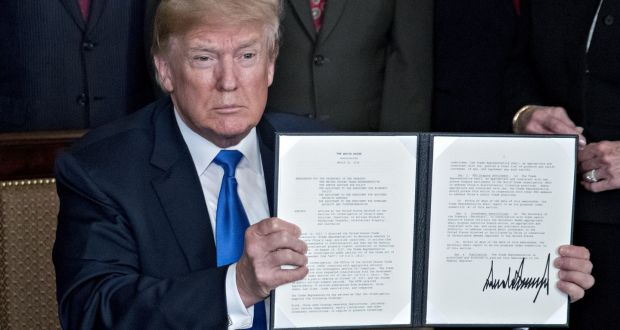 US officials have identified 10 key areas that will be targeted, including aerospace, robotics and the biopharma industries. The US treasury department has been tasked with coming up with a specific list within the next 15 days. Stock markets moved sharply lower on the announcement, which has prompted fears of a looming trade battle between the world's two largest economies.


Describing America's trade deficit with China as "the largest deficit of any country in the history of our world", Mr Trump said the new measures were about fairness for the American worker.


Historically it is true that Chinese state subsidies to metals producers and exporters have breached global trade rules. Take steel: China's steel production has grown enormously over the past 20 years, from about 15 per cent of world supply to roughly 50 per cent last year. That growth was propelled by Beijing's focus on steel-making as a "strategic pillar industry" which encouraged local governments to offer generous subsidies worth an estimated US$20 billion a year to steel companies, largely in the form of cheap capital, free land and subsidised energy and raw materials.